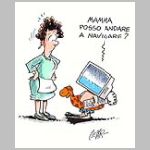 Profile


César

Cesare Lo Monaco, some years later he got a degree as graphic designer. Nowadays he lives and works in Grugliasco, near Turin.
When he was 16 in Milan he started to draw cartoonss and became a puiblisher with Setau and Pavasio with the ?S.P.L.? society.

He goes on to cooperate with Mon

....Read more...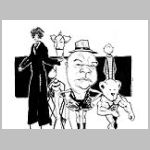 Profile


Born in 1979 in the Ancona district. Got his high school diploma as "Maestro" at the Istituto d'Arte of Macerata. Got a degree at the Scuola Internazionale di Comics in 2003. His first assignment as an illustrator and cover designer is for the book Il Pane Altrui edited by Nuggets Island: by the sam

....Read more...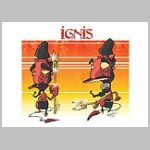 Profile


Edoardo Catozzo, disegnatore umoristico, diplomato alla Scuola del Fumetto di Milano.
FUMETTISTA-ILLUSTRATORE-GRAFICO-SCENEGGIATORE-CARICATURISTA-DISEGNATORE DI GIOCHI DI ENIGMISTICA REBUS E VIGNETTE.
Dal 2005 opero nei settori fumetto, grafica pubblicitaria, illustrazione editoriale e moda.
tra

....Read more...